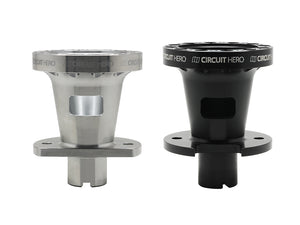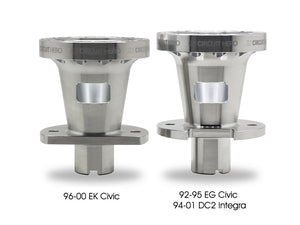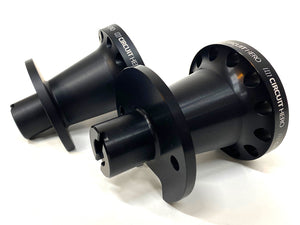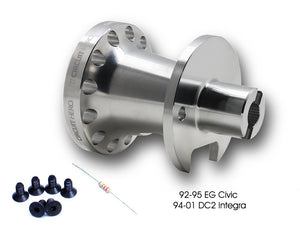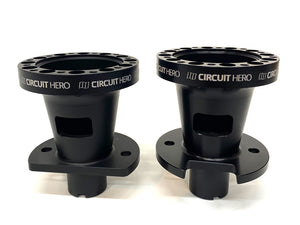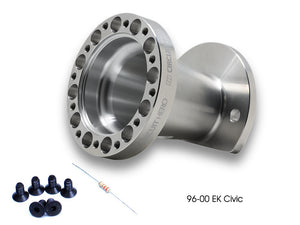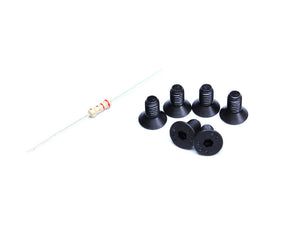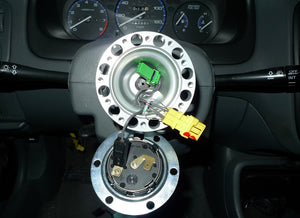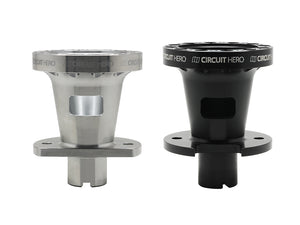 Steering Wheel Hub Adapter V2
The Circuit Hero Billet Steering Wheel Hub is machined out of a single solid piece of 6061-T6 aluminum. There were no shortcuts in the creation of this hub. At 3" tall, our hubs will still work great with quick-releases or hub extenders. This will be the easiest steering hub you will ever install on your car!

Removal of the factory SRS "clockspring" and harness is not required. Your SRS clockspring is retained in case you ever want to revert back to a factory steering wheel. This means that you can keep the factory horn and cruise control wiring intact. Your factory horn wire will go right into the aftermarket horn button! A resistor is also included to keep that pesky SRS airbag light from lighting up on the dash cluster.

Note: you can run this hub without the SRS clockspring too, but you will lose horn functionality. 
Available in silver with clear anodized finish or black anodized finish.

Each hub has two bolt patterns to fit both of these 6-hole pattern steering wheels: 
6 x 70mm (Circuit Hero, Momo, Sparco, OMP)

6 x 74mm (Nardi, Personal)
Hub Kit Includes:
1 Billet Hub

1 SRS Light Resistor

6 countersunk Allen Bolts
Applications:
1992-1995 Honda Civic (EG) / 1994-2001 Acura Integra (DC2)

1996-2000 Honda Civic (EK)

*
*Made specifically for the EK chassis but can fit these other vehicle applications below. If your car has a dual stage airbag you may need two resistors instead of one.
2002-2006 Acura RSX (DC5)
2004-2008 Acura TSX - (Horn not compatible)
1994-1997 Honda Accord
1998-2002 Honda Accord
2001-2005 Honda Civic (all)
2007-2009 Honda Fit
1997-2001 Honda Prelude
2000-2009 Honda S2000
**FOR OFF-ROAD USE ONLY
Part Numbers: 
CH-SWH-EG (Silver)
CH-SWHB-EG (Black)
CH-SWH-EK (Silver)
CH-SWHB-EK (Black)