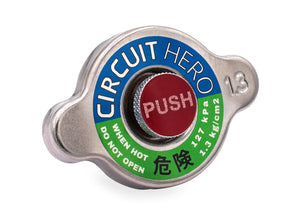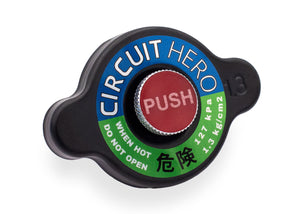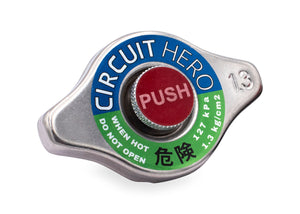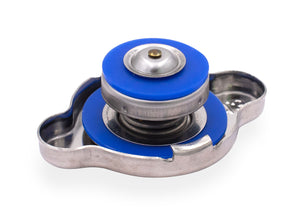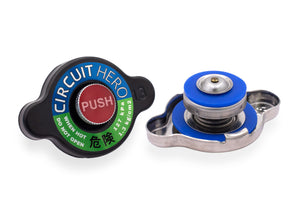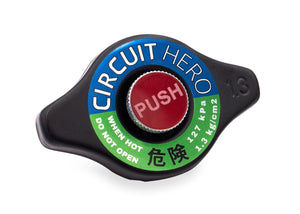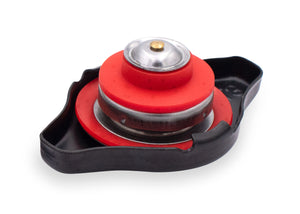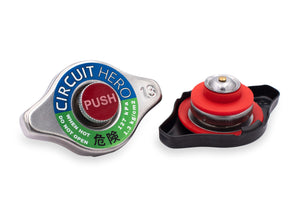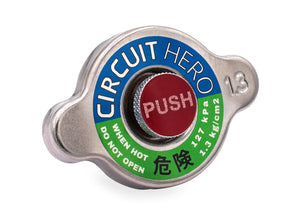 High Pressure Valved-Radiator Cap
Circuit Hero high pressure radiator cap uses a 1.3 kgf/cm² spring to increase your coolant/antifreeze boiling point and protect your engine.

An added bonus we've incorporated is the built-in button valve. To ensure there is no hot heat pressure built up, always press the button to make sure there is no hot vapors in your radiator before opening the cap.  Pressing the button also allows hot vapors to escape for quicker cooling. 

*NEVER OPEN RADIATOR CAP WHEN HOT.

Features

High pressure spring to raising engine boiling point.

Safety button to reduce chance of being burned.

Release hot vapors to cool down engine faster.

Type-A Vehicle Applications
Fits most aftermarket radiators
Fits Blox Racing Radiators
1988-1991 Honda Civic
1988-1991 Honda CRX
1992-2001 Honda Prelude
2016+ Honda Civic 1.5T
2017+ Honda Civic Type-R
1990-1993 Acura Integra
2003-2007 Mitsubishi Evolution VIII, IX
2008+ Mitsubishi Evolution X
2002+ Subaru WRX, STi 
Type-B Vehicle Applications
Fits most factory and some aftermarket radiators
Fits K-Tuned filler necks
2007-2008 Honda Fit
1992-1995 Honda Civic (all)
1992-1997 Honda Del Sol (all)
1996-2000 Honda Civic (all)
2000-2009 Honda S2000 (all)
2002-2005 Honda Civic Si
2006-2011 Honda Civic (all)
2012-2015 Honda Civic
2003-2008 Honda Element

1990 -1997 Honda Accord

1994-2001 Acura Integra (all)
2002-2006 Acura RSX (all)
2004-2008 Acura TSX
2013+ Toyota 86
2013+ Subaru BRZ
* Some aftermarket radiators do not use a factory cap. For example, Koyo uses Type A on most their radiators regardless of application. Please check yours before ordering. 
** Please note our Radiator Caps have extremely tight fit. 

Part Numbers: CH-RCA-S, CH-RCA-B, CH-RCB-S, CH-RCB-B