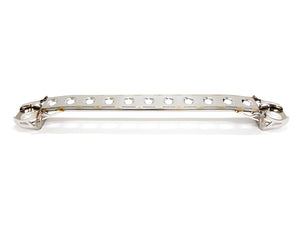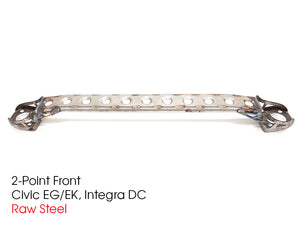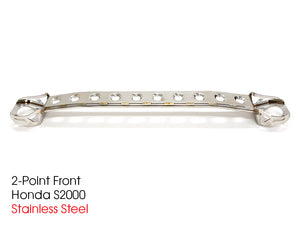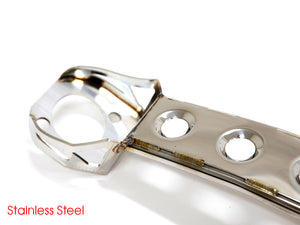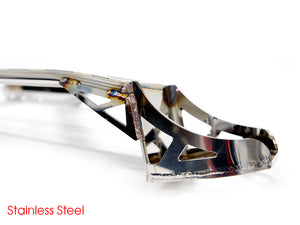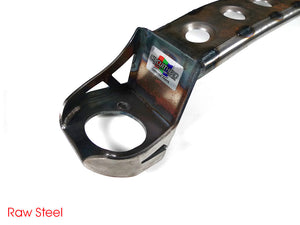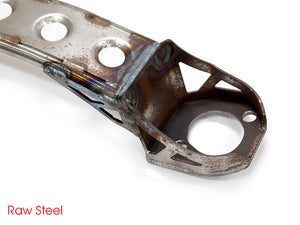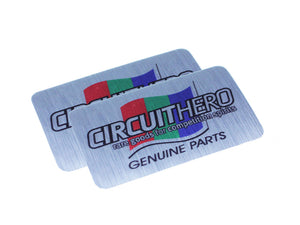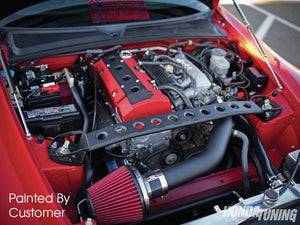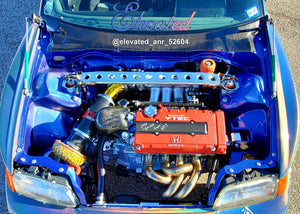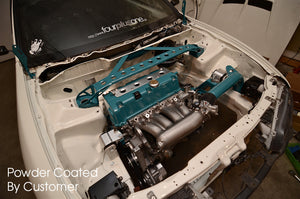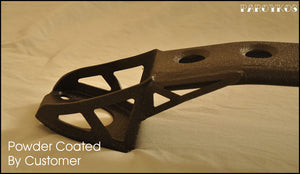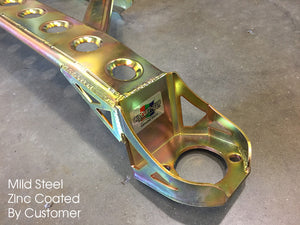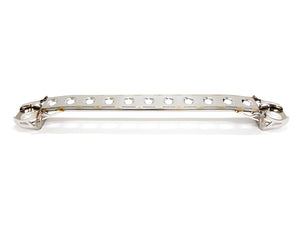 Front 2-Point Strut Tower Bar
YOU ASKED FOR IT AND SO WE BROUGHT IT BACK. VERY LIMITED QUANTITIES. 

Our strut bars are designed with two horizontal steel bars tying each shock tower together. Bars are then welded together with no pivoting parts for maximum chassis rigidity. This will stop your car from flexing during track events as well as during casual spirited driving. 

Bars come in raw mild steel and stainless steel. We left the mild steel RAW for customers that like to paint, powder coat, or plate the bars themselves to individually match their car. If you are purchasing the raw version it will have some rust on it and we recommend that you have it treated as soon as possible.

We manufacture our strut tower bars with extremely tight tolerances. With such tight tolerances, the overall condition of your vehicle's unibody chassis may or may not affect the ease of installation. Due to general wear and tear or high horsepower chassis flex or accident, the installation can be very difficult. Please read our instructions and watch our video before installation. Be prepared, you will have to remove your shocks from the car to get the bar in. The tight clearances may also scratch up your engine bay paint during installation.

If you cannot get the bar to fit, please email us. BUT WE CANNOT TAKE BACK ANY BARS THAT HAVE BEEN PAINTED OR MODIFIED. SO TEST FIT FIRST!
*** UPDATE 01.11.21 - We confirmed that our Front 2-Point Strut Tower Bars fit EF applications. You must run a booster delete.



DOWNLOAD INSTRUCTIONS

HERE





WATCH VIDEO HERE OR BELOW



Applications
- Honda Civic EG/EK/EF, Acura Integra DC
- Honda S2000 AP (does NOT work with OEM factory intake)



**LIMITED QUANTITIES**


Rear strut tower bars also available here.

Part Numbers:
CH-2FSB-EGK-RW (Raw Mild Steel)


CH-2FSB-EGK-SS

(Stainless Steel)


CH-2FSB-S2K-RW

(Raw Mild Steel)


CH-2FSB-S2K-SS

 (Stainless Steel)