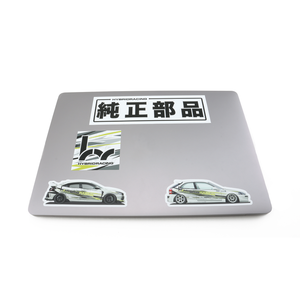 Hybrid Racing Sticker Pack
Get ready to show off your love for Hybrid Racing with our exciting new sticker pack! After countless requests, we've put together a collection of four awesome stickers that are sure to turn heads.
Stick the Hybrid Racing "Genuine Goods" Slap Sticker (8.5" x 2.75") anywhere you want to make a bold statement. The Hybrid Racing Livery Square Sticker (3" x 3") adds a pop of color and style to any surface, while the Hybrid Racing FK8 Type R Sticker (5" x 1.75") lets you proudly display your love for this iconic car model. And don't forget about the Hybrid Racing x BattleCraft EK Sticker (5" x 1.75"), perfect for anyone who loves a good collaboration. 
Each sticker is printed on high-quality vinyl, ensuring that they'll stick around for the long haul. So whether you're decking out your car, laptop, or anything in between, these stickers are sure to add some fun and flair.